Every now and then, we all hit that wall. You know, that moment when your energy is sapped, your enthusiasm wanes, and the last thing you want to do is think about dinner. But stomachs rumble and mouths salivate, demanding to be satisfied. Well, fear not, because I'm about to drop some culinary knowledge that will turn those dinner dreads into dinner delights.
Get ready for a round of incredibly satisfying, "I-just-don't-care" recipes that are bound to turn any blasé evening into a mouth-watering escapade! 🍲🍪
Now, before we dive into the culinary deep end, I want to take a moment to address the elephant in the room. The question I get more than any other: "What on Earth should I cook when I just don't care?" Well, my friends, the answer is simpler than you think.
Cooking, in its essence, isn't just about fueling our bodies – it's also a form of therapy, an expression of creativity and an excuse to let loose and forget about the world's worries for a while. Now, who doesn't need a dose of that on a day when you just can't be bothered?
Now, picture this: it's been one of those days. You come home, kick off your shoes, and all you want is something satisfying to eat without having to whip out every utensil and pot you own. And that's where these brilliantly effortless, unbelievably delicious, no-fuss recipes come in! Here's a sneak peek of what's to come, and trust me, you'll want to keep scrolling for the juiciest details! 😋
1. Eggs in Purgatory 🍳🔥
Step aside, complicated dinner! This heavenly dish is straight from the heart of Italian cuisine, but with a twist! Think of eggs poached in a spicy, garlicky tomato sauce, with a generous sprinkling of cheese. It's warming, comforting, and most importantly, ready in less than 30 minutes!
An egg-cellent Italian breakfast dish that's easy, quick, and egg-straordinarily tasty!
2. Thai Peanut Noodles 🥜🍜
If a hug could be a dish, this would be it. Imagine luscious noodles, slathered in a creamy, spicy peanut sauce, with a vibrant crunch of colorful veggies. It's a one-pot wonder that will whisk your taste buds off to the vibrant streets of Thailand!
Satisfy your cravings in no time with these flavorful, customizable, and nutritious Thai Peanut Noodle Bowls.
3. Caprese Stuffed Chicken 🍅🐓
Say hello to your new secret weapon for those "I don't care" days. Juicy chicken breasts, stuffed with ripe tomatoes, fresh basil, and oozing mozzarella. It's a 30-minute ticket to an Italian countryside that your taste buds won't soon forget!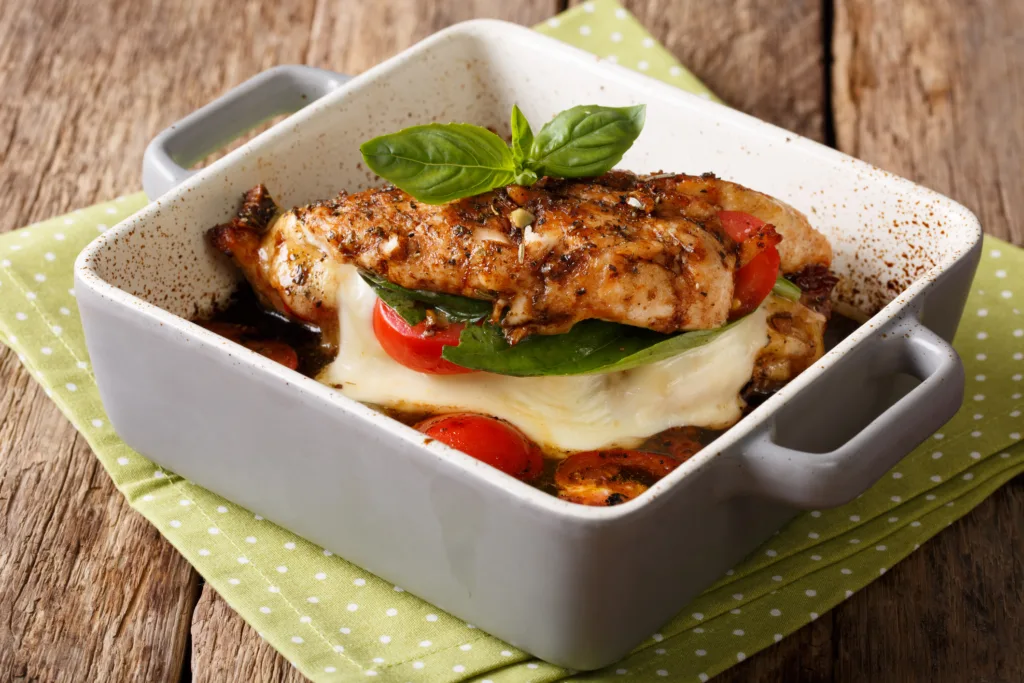 Savor the taste of Italy with this juicy Caprese-Stuffed Chicken Breast recipe, bursting with fresh flavors.
So, why wait any longer? Let's get into these mind-blowingly simple recipes that'll keep you craving more while also fitting perfectly into your "I-just-don't-care" days. But hey, don't take my word for it – try them for yourself and witness the magic that happens when you transform the simple into the spectacular! Bon appétit, my friends! 🍴😋